Learning Lab- Academic Enrichment & Resource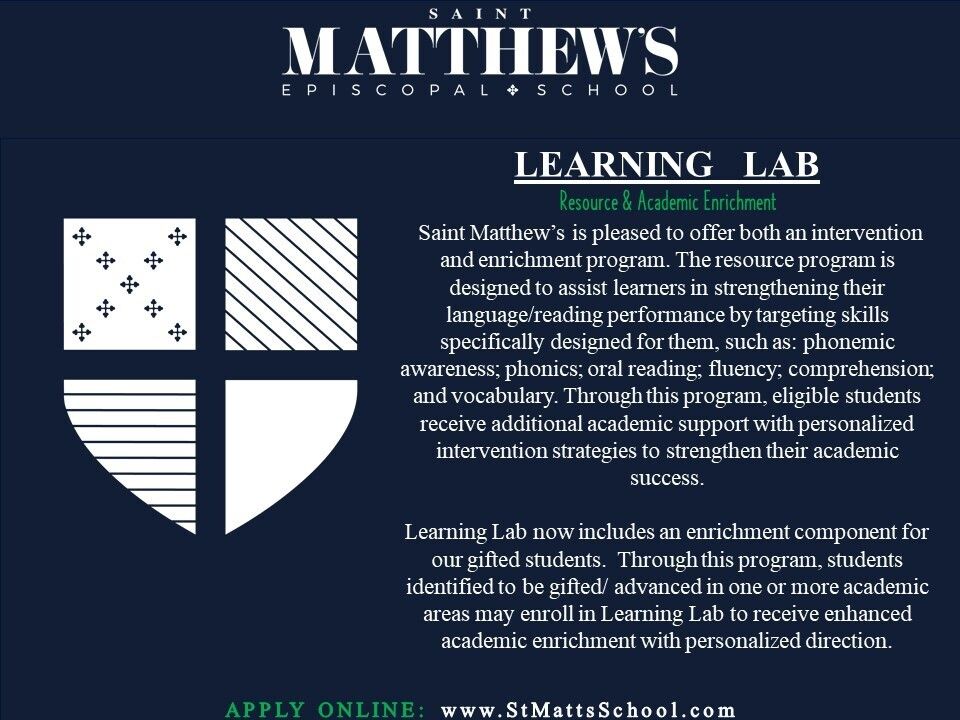 Dolphin Tales: February edition
Our Learning Lab Gifted & Advanced students have worked with RuRu to create our school newscast, Dolphin Tales! Enjoy the February edition!
Hola, Amigos! (Foreign Language Instruction)
SMES Enrichment classes now include weekly Spanish lessons!
Faith Development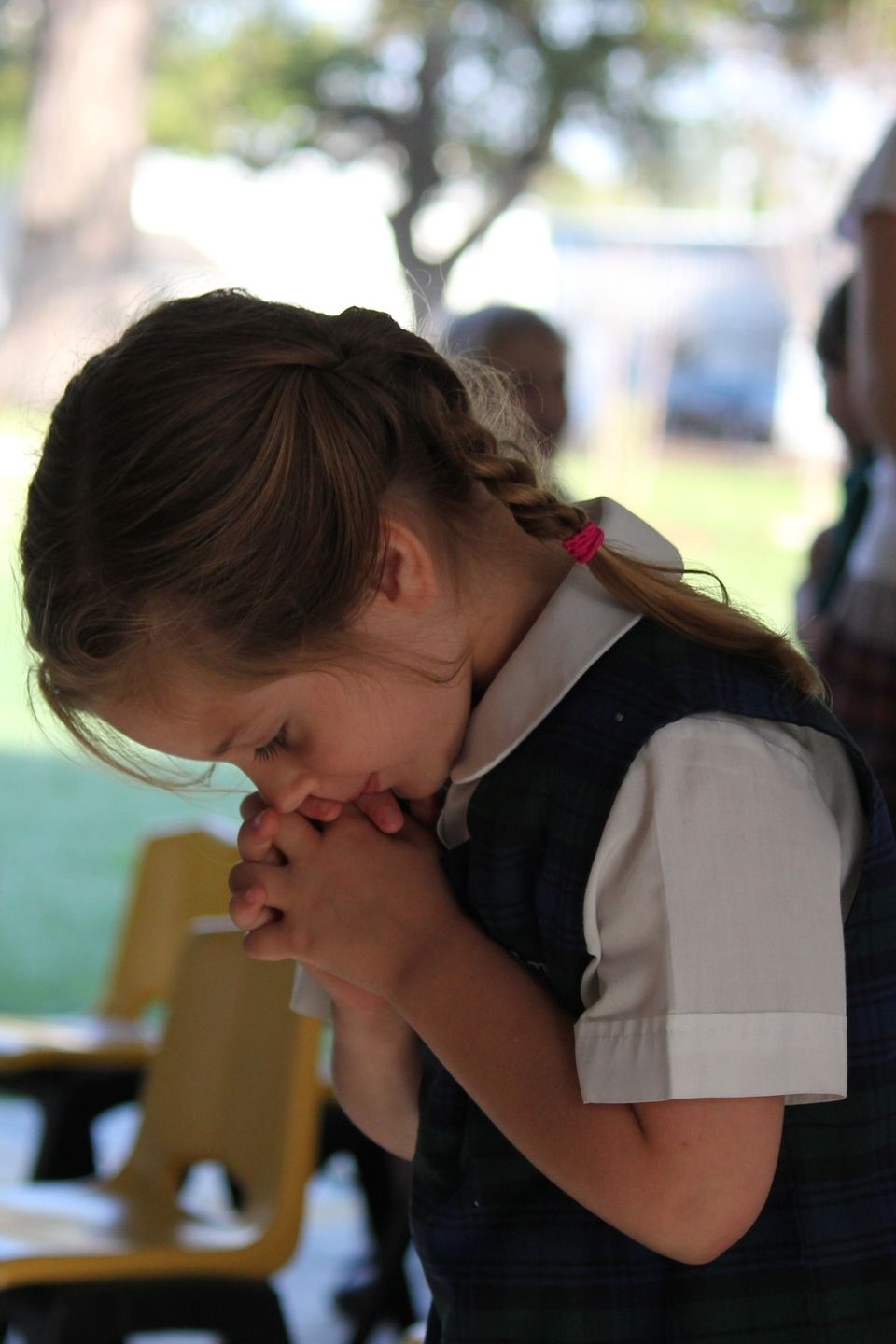 St. Matthew's School is a ministry of the Episcopal Church and we recognize that faith development is important to each grade level. All students participate in daily devotionals. Ours is a Christ-centered school, steeped in the Anglican tradition, while remaining respectful of other religious traditions. Each day begins in Chapel for all students. Our custom is to worship together each Thursday and Eucharist services are held once each month.

At St. Matthew's, spiritual ideas are presented in developmentally appropriate ways. The concept of God, the idea of love and the belief that each person is a treasured and special individual are highlighted. Children are encouraged always to seek after truth with integrity and compassion.
Literacy Lab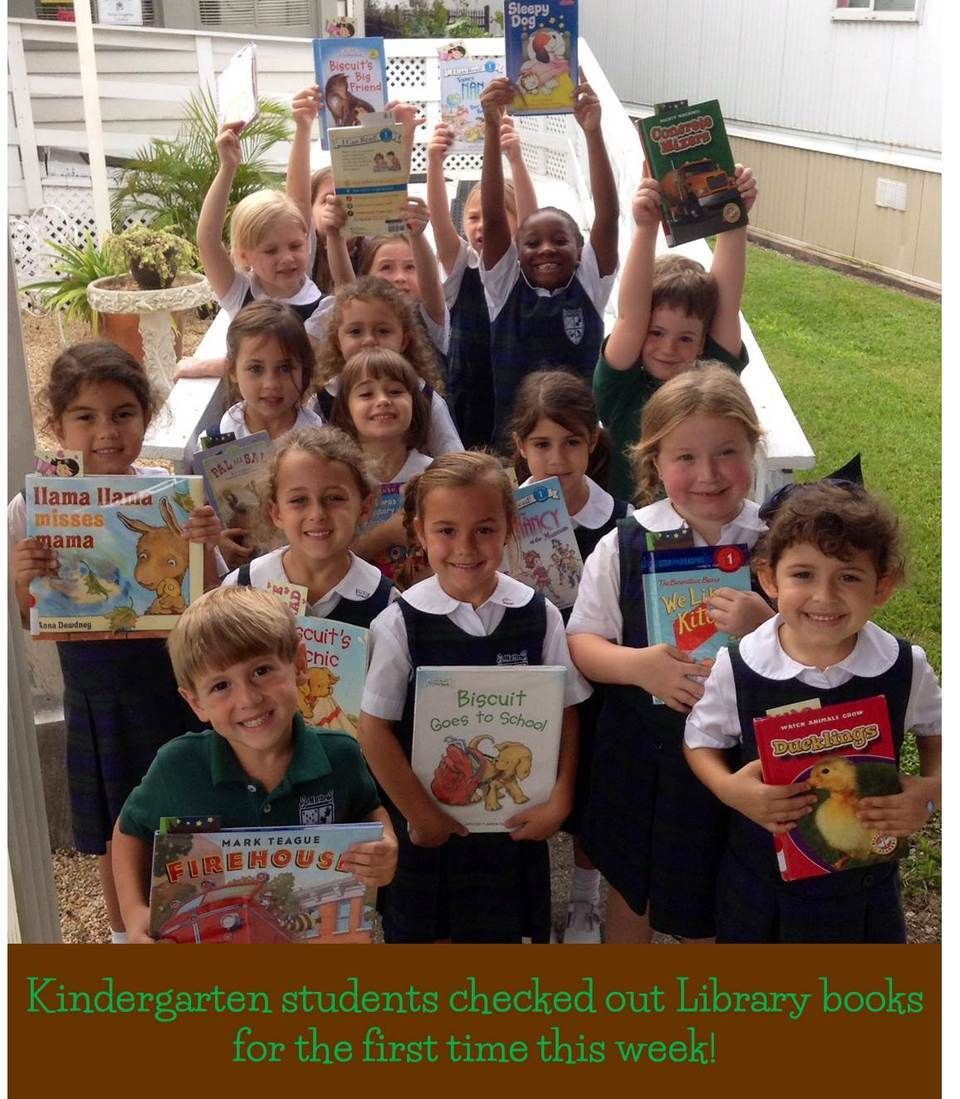 To encourage students to read, SMES uses the Accelerated Reader program. This program allows students to take a STAR reading placement test, and then choose a book at their individualized reading level. Students can read the book at their own pace, and then take an AR quiz on it. The computerized quiz scores the student's level of comprehension.
Technology Across the Curriculum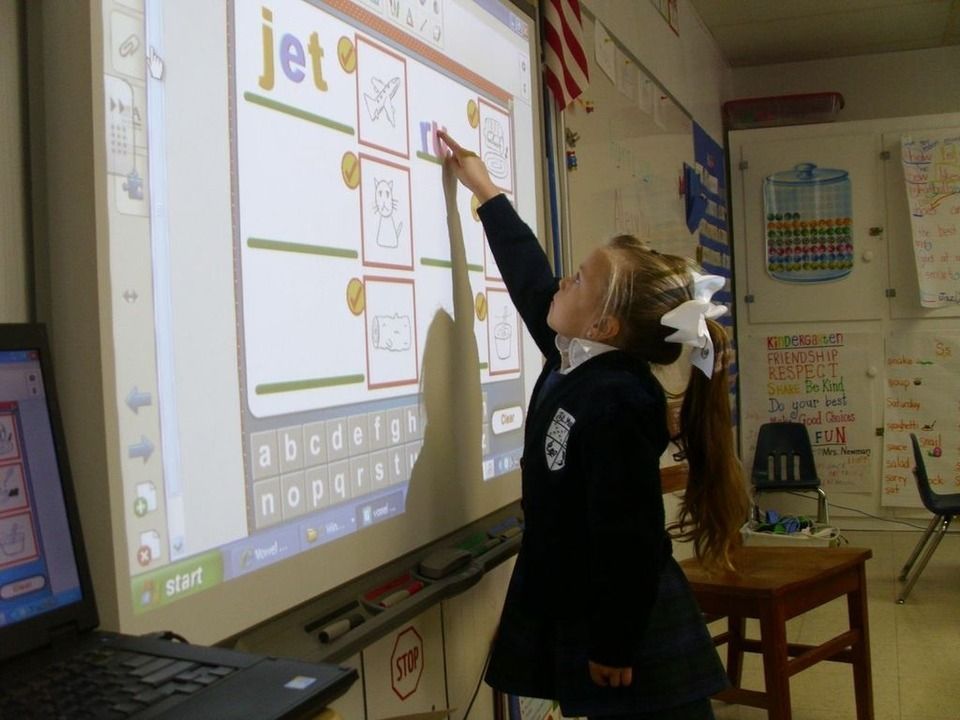 At St. Matthew's, technology is seamlessly woven into the learning process, enhancing curriculum across disciplines and grade levels, to provide students with the skills to use computer technology in ways that will benefit them now and in the future. St. Matthew's is committed to providing students and faculty with tools that are representative of the technologically sophisticated age in which we live and maintains state-of-the-art facilities. Our computer and media center has individual computer work stations and a SMARTBoard©. Interactive whiteboard, which help teachers create dynamic multimedia lessons that excite and engage students, are present in every classroom and the library.  There is also a 3-D printer!

Through very generous donations from members of our parent and school community, St. Matthew's students have access to iPads.  Teachers in Pre-K through 6th grade check out sets of iPads for small group instruction and projects.

The full-campus computer network is equipped with a firewall to ensure our students can safely navigate the internet. Instructional computer classes at all grade levels allow students to explore a variety of age-appropriate software and learn the basics of Coding, keyboarding, 3-D printing, word processing, Microsoft PowerPoint, Excel and Publisher, multimedia presentations, and use of the Internet. Teachers in the upper grades incorporate research skills and projects that require library and computer lab use in their respective curriculum.

The prevalence of technology across the curriculum as well as students' access to supplemental programs characterizes St. Matthew's commitment to each student's individual progress and success in core curriculum skills. St. Matthew's continues to be committed to being on the cutting edge of assimilating technology into the classroom. Our Technology Administrator and Curriculum Coordinator work together exploring ways to effectively use the quickly progressing tools of technology in our student's daily school experience.
Music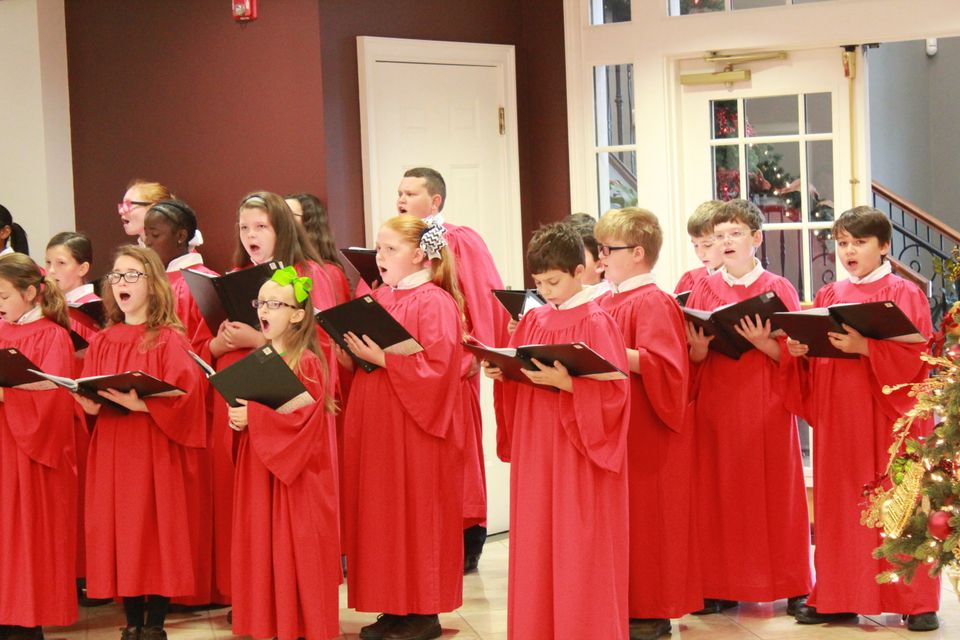 St. Matthew's believes that a general appreciation for and love of music is developed at an early age and includes a fully developed Music Program for all students. Music concepts are further expanded upon in each subsequent grade, resulting in a full and comprehensive music education for each St. Matthew's student.

In the Pre-Kindergarten and Kindergarten Programs, instruction builds upon concepts relating to the elements of music: tempo, dynamics, rhythms, melody and time. Concepts are reinforced with singing, playing simple rhythm instruments and movement. The first through seventh grade program encompasses every aspect of music education: Music history, theory, ear training, instrumental training and music appreciation.
Physical Education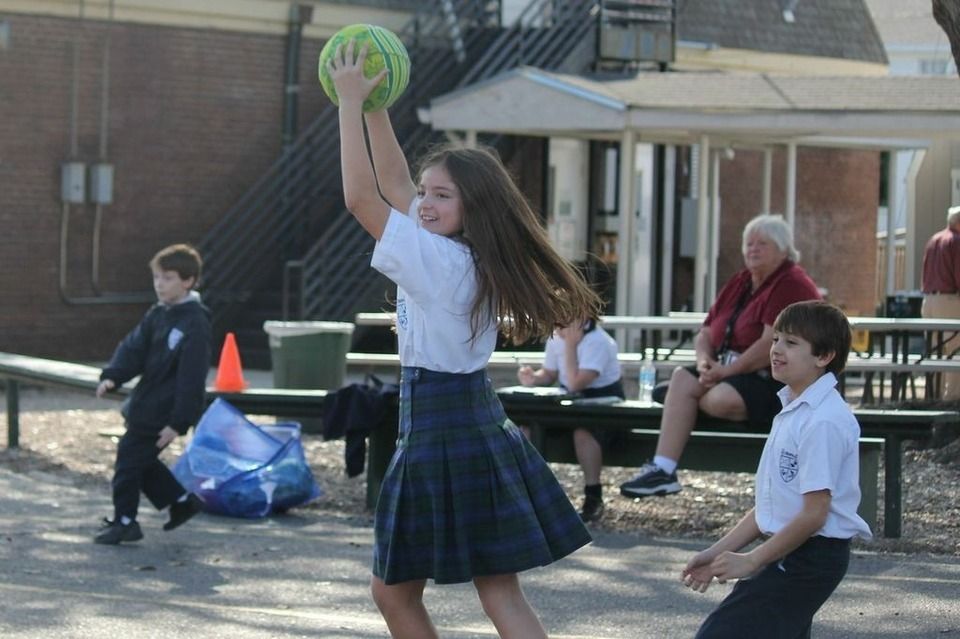 St. Matthew's Physical Education Program is designed to develop and strengthen the physical, social, and emotional needs of students through their participation in athletic activities.

The Physical Education Program encourages students to participate in and enjoy various activities and introduces skills and games to offer a better understanding of a particular activity. Students in first through seventh grade have physical education and health instruction four days a week. It is the primary goal of the Physical Education Program that each child enjoys every activity while participating in a socially comfortable atmosphere. Competition, winning, and losing have little emphasis within the parameters of the physical education curriculum. Fair play and good sportsmanship are expected in all activities.

Service Learning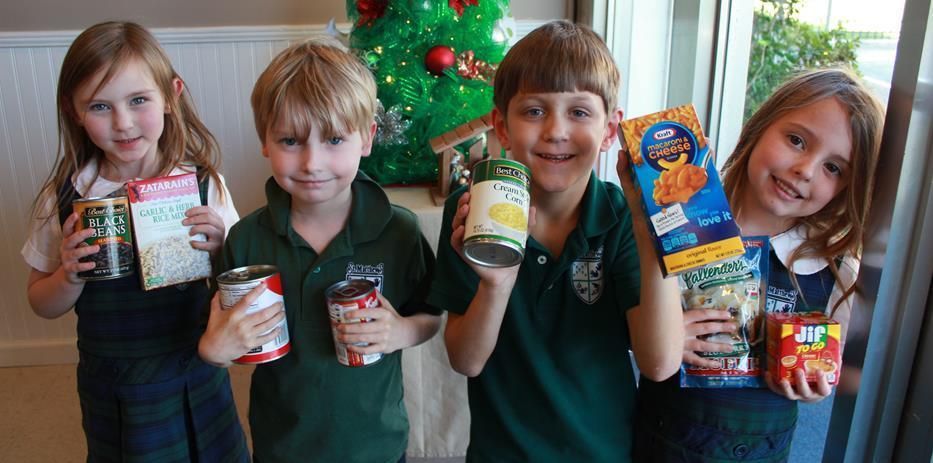 One focus at SMES is service learning. We encourage and provide opportunities for our students and faculty to give, share, and be people for others. Some of these opportunities include a food drive, a coat drive, purchasing gifts to give less fortunate families a blessed Christmas, assembling bags for children in the hospital, Christmas caroling at local businesses, donating to Mary Bird Perkins Cancer Research, making ornaments and decorations for nursing home residents, and donating care packages for those in need.

 
Accelerated Reader (AR) and Freckle Math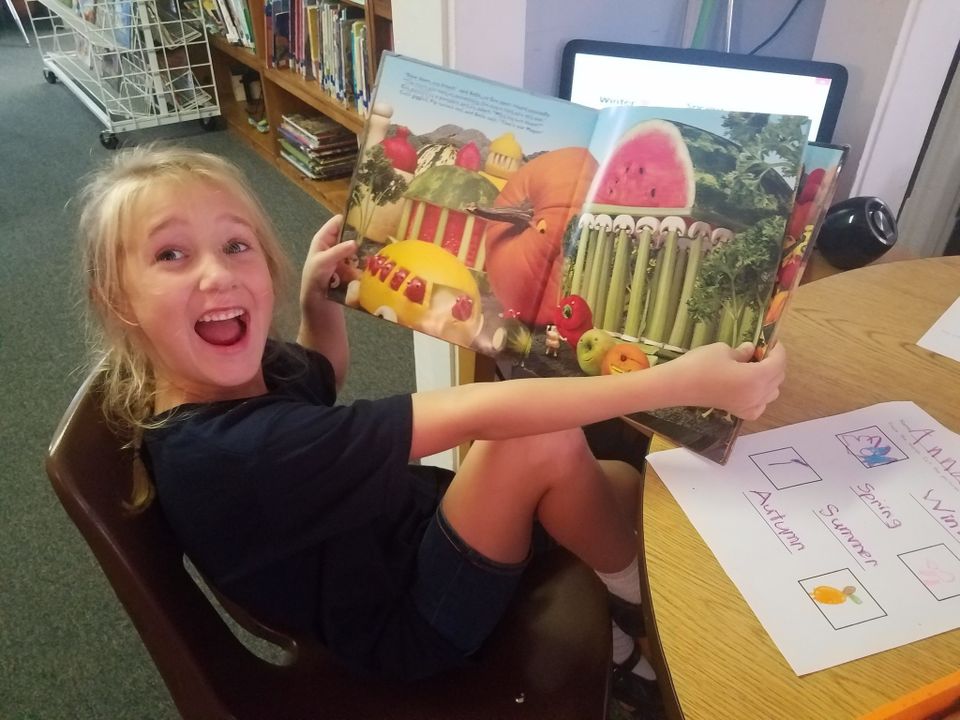 St. Matthew's Episcopal School uses Renaissance Learning's Accelerated Reader (AR) program. The AR program allows SMES students to become proficient at reading at their own pace. The nature of the self-paced program provides students with an individualized enrichment experience. Accelerated Reader's advanced technology helps enhance essential reading skills for every student by personalizing reading practice to each student's current level and helps build a lifelong love of reading and learning. AR can provide daily information about a student's reading and makes it easy to continuously monitor comprehension by providing immediate feedback on the reading and vocabulary progress of each student.

Through Freckle Math, students practice math skills and show proficiency by mastering skills at an individual pace. Technology allows for quick and easy scoring of math assignments. Similar to AR, Freckle Math is self-paced and provides students with an individualized enrichment experience.
Rotary EarlyAct Club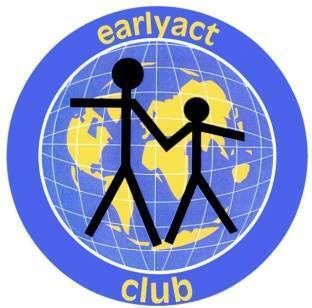 EarlyAct is a service club for elementary students. The Saint Matthew's club is sponsored by The Rotary Club of Houma. Mrs. Leonard and Ms. Phillips are the SMES Advisors. EarlyAct provides young students with the opportunity to gain and increase awareness and knowledge of their community and the world.
EarlyAct teaches...
Caring | Empathy| Respect |Responsibility
|Tolerance| Citizenship |Friendship
EarlyAct engages students in character-building activities which prepare them for leadership roles and to identify and carry out projects which benefit their club, school, community and international services. Our club will meet monthly, and we will also work on service projects and activities throughout the year.